Eco-Warriors
The Eco Warriors were set up to inform and promote environmental projects throughout the school. Within the school, each class has two representatives who attend half-termly meetings, promote campaigns, and work closely with staff members to improve the environment of the school and the surrounding area.
In recent years, the Eco Warriors have been involved in activities such as:
The Big British tidy - tidying up the local area as part of a National Campaign.

Building a Bug Hotel - providing a safe habitat for mini beasts to prosper and show the children the importance of caring for animals.

Reducing one-use plastics - creating a school campaign for children to use reusable water bottles in their class.

Reduce the amount of paper waste - speaking in class assemblies and promoting reusing paper for notes, drafts, and wet playtimes.

Completing an environmental check - working with the caretaker in order to spot areas of improvement within the school.

Growing plants and vegetables - along with the School Governors, the

children spend time improving the school grounds by planting trees and vegetables, caring and monitoring them throughout the spring and summer terms.

Switch Off fortnight - The whole school participated in a day of no electricity in the classrooms. This reduced the usage by 1/3, compared to a normal day!
These successes are then shared with the children during Assembly times and on the Eco Warriors board.
The Eco-Warrior's aim this year is maintain our status of having the highest honour, The Eco-Schools Green Flag Award. As recognition for the school's hard work the Eco-Warriors were presented with a green Eco-Warriors flag and a certificate.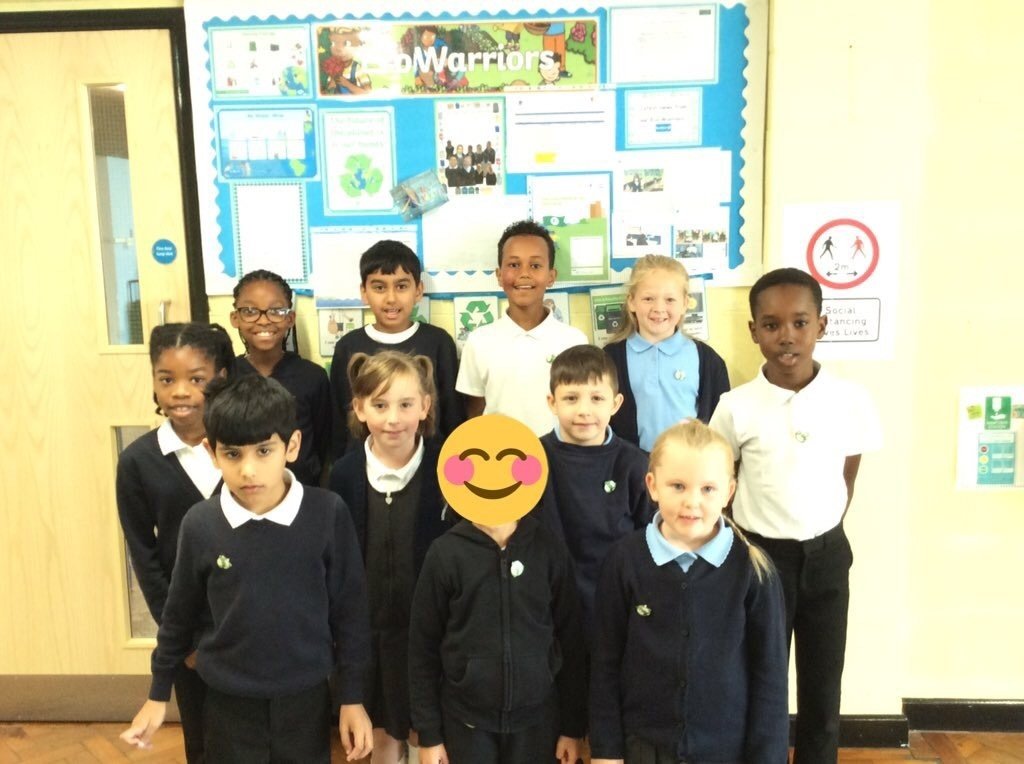 Keep an eye out on our Twitter page throughout the year for further successes!