Attendance
At Nonsuch Primary School, we believe that education is important because it provides our children with the skills needed for life. In order to gain these skills, children need to attend school regularly and punctually – this is both for academic and social reasons.





As a school we will work closely with children, parents/carers and the local community to resolve attendance issues.





It is the responsibility of parents/carers to ensure that their child attends school on time, unless there is an authorised reason for their absence.
A number of incentives are in place to promote good attendance; these include:

Each week, children who achieve 100% attendance, have their names added to a tombola. At the end of the term, the Head Pupil pulls out one name from the tombola. This person can choose a prize up to the value of £50.



Our winner for the Autumn Term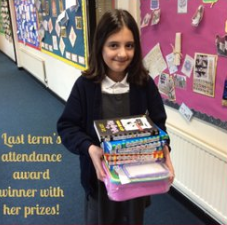 Weekly attendance assembly.

A reward for the class with the highest attendance each half term.

Display board in the entrance to celebrate good attendance.

We have a week dedicated to investigating the importance of good attendance.

We report on attendance on the weekly newsletter.






The school's current target for attendance is 96%.
Nonsuch Primary School follow DFE guidance on attendance and Birmingham County Council Policy on term time absence.
School_attendance_July_2019.pdf
https://www.birmingham.gov.uk/downloads/download/442/school_attendance_and_absence_advice_for_schools
Attendance Policy for Nonsuch Primary School April 2019.pdf
Well done to everyone who created a poster for attendance week. You did a fantastic job of explaining why good attendance is so important and how it has an impact on your future! It was incredibly hard to choose a winner for each class.
Graduated Response to Monitoring Attendance at Nonsuch Primary School
Attendance Data 2021-2022
Attendance Autumn Term 1 Attendance Autumn Term 2
Reception

95.9%

Reception

95.1%

Year 1

91.2%

Year 1

92.8%

Year 2

87.8%

Year 2

90.5%

Year 3

92.8%

Year 3

89.6%

Year 4

93.9%

Year 4

94.8%

Year 5

95.3%

Year 5

95.5%

Year 6

95.8%

Year 6

94.1%

Total

93.2%

Total

93.1%
Fines to the value of £609 have been issued to parents of Nonsuch pupils this year by the Local Authority.
Please ensure your child attends school regularly and avoid taking leave in term-time unless there are exceptional circumstances.